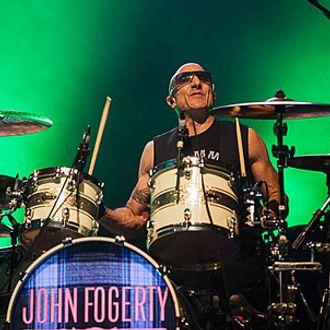 Kenny Aronoff
What do John Mellencamp, Sir Paul McCartney, Ringo Starr, The Rolling Stones, Lady Gaga, Bruno Mars, Sting, Bob Dylan, Bruce Springsteen, Bob Seger, Dave Grohl, Elton John, Johnny Cash, Willie Nelson, Jon Bon Jovi, Steven Tyler, The Smashing Pumpkins, Meatloaf, B.B. King, Rod Stewart, and John Fogerty have in common?
All of these rock 'n' roll superstars have performed with the Legendary Kenny Aronoff as their drummer, keeping the beat in the studio or on the road at the top of the Music Game… for Decades!
Carl Allen
Carl Allen is an American jazz drummer. Allen attended William Paterson University. He has worked with a wide variety of musicians, including Freddie Hubbard, Jackie McLean, George Coleman, Phil Woods, the Benny Green Trio and Rickie Lee Jones. It was with Green that Allen met bassist Christian McBride.
Richard bravo
His impeccable and precise musicianship has awarded him a body of work that encompasses over 1000 recordings, 2 Grammy Statues and 30 Grammy Award Achievement Certificates. From recording and appearing on International Superstar Ricky Martin's MTV "Unplugged" release, to creating the incredible rhythms of the Multi-Platinum "Hips Don't Lie" by Shakira, and the recent ROBERTO CARLOS "LIVE at ABBEY ROAD" DVD Release by Sony Music.
Craig Blundell
Craig has been playing drums since the age of 3 and is now recognised in the top handful of  "Progressive" drummers, educators and clinicians in the world. Over his decades of playing and studying, he's dedicated hour upon hour studying his trade and gradually built up his profile and reputation over the last few years as a true ambassador for British drumming on the international scene.
Chris Coleman
Chris Coleman is best known for his work with artists such as Beck, Christina Aguilera, Babyface, Patti LaBelle, Randy Brecker, New Kids On The Block, Chakah Khan, Prince, and many others. He has been playing drums since the age of two, and along with his notable touring gigs and recordings, Chris is dedicated to his ministry, his teaching, and is a highly requested clinician.
Peter Erskine
Peter Erskine has been at the forefront of drumming globally for 50 years! He has over 700 album and film credits, plus two Grammy Awards. He played with the Stan Kenton and Maynard Ferguson big bands, Weather Report, Steps Ahead, Joni Mitchell, Steely Dan, Diana Krall, Kenny Wheeler, Mary Chapin Carpenter, The Brecker Brothers, The Yellowjackets, Pat Metheny & Gary Burton, John Scofield and Seth MacFarlane, just to name a few.
dom famularo
Dom was the first drum instructor in the world to give lessons via the internet. Dom has been traveling the globe preaching the gospel of drumming for over 30 years. An intense performer, Dom is one of the most respected solo drum artists in the world, with a career built solely upon his unique skills as a drummer, educator, author and motivational speaker.
Andres Forero
Tony, Grammy, and Emmy award winning Andres Forero is considered to be one of the best "Crossover" Drummer/Percussionists in the industry. Forero has traveled the world and has performed and / or recorded with luminaries such as Dizzy Gillespie, Max Roach, Paquito D'Rivera, Ron Carter, Alejandro Sanz, Tito Puente, Sean Kingston, Ne-yo, Wyclef Jean, and Alicia Keys. He is currently the drummer for the critically acclaimed, award-winning, Broadway hit musical "Hamilton".
Chris fryar
Chris Fryar is an American drummer. He is a member of Zac Brown Band. He has also worked with Oteil and the Peacemakers, led by bassist Oteil Burbridge of the Allman Brothers Band, Charles Neville, Victor Wooten, John Popper, Steve Bailey, David Hood, Robert Moore and the Wildcats, and the blues trio, Gravy.